17014488
https://lawyers.lawyerlegion.com/
Christopher Ryan Orr
614-855-7800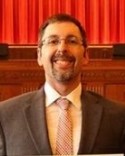 About Christopher Ryan Orr
Christopher is an experienced trust & estate attorney, with expertise in estate planning, trust administration, and probate. But as a child, Christopher R. Orr was always known as the kid with his nose in a book. This passion for learning was due to Christopher's parents answering his endless "why?" questions with "look it up and teach us!" The ability to make complicated information... read more »
Biography
Christopher is an experienced trust & estate attorney, with expertise in estate planning, trust administration, and probate. But as a child, Christopher R. Orr was always known as the kid with his nose in a book. This passion for learning was due to Christopher's parents answering his endless "why?" questions with "look it up and teach us!" The ability to make complicated information logical and then turn around and explain it to others became natural for him even at that young age.
It wasn't until Christopher was in law school that he was faced with the reality that most attorneys do not cultivate this skill and don't approach education of clients and families as a vital part of their profession the way he does.
After first serving in the United States Army as an interrogator and then obtaining his B.S. in computer engineering, Christopher earned his Juris Doctor from the University of Toledo College of Law.
During his time at the College of Law, Christopher's research on GPS technology and the Fourth Amendment was published in the university Law Review and he served as a teaching assistant helping other law students understand the Federal Rules of Civil Procedure.
Prior to leading the Columbus office of the Lavin Law Group, Christopher worked under highly respected judges in both the Ohio Appellate Court and the United States District Court.
Christopher is a member of the Columbus Bar Association, Ohio State Bar Association, and the American Bar Association, where he is a member of the Estate Planning, Trust, and Probate Section. Christopher has worked extensively pro bono to educate and assist others with pro se motions to expunge and seal their records.
Christopher works closely with families to create estate planning solutions that are right for their specific situations. Christopher understands that each family is unique and will ensure that any plan is tailored precisely to fit your family and needs. You can expect 100% transparency, no horror stories, and reasoned answers for your questions when working with Christopher to create your family's estate plan. 
Christopher resides in Newark with his wife, Stacy. Currently, you can find both Christopher and Stacy cheerfully answering to "mommy" and "daddy" to their son CJ.
Contact Information
Lavin Law Group
New Albany
, OH
43054
www.lavin-elderlaw.com
Phone Numbers:
Secondary Address:
Lebannon
, OH
45036
Practice Areas
Area of Practice
% Focus
Estate Planning
S6
50.00%
Estate and Probate Law
P6
30.00%
Elder Law
P17
20.00%
Credentials
Bar Licenses
| State | Status | Year Acquired |
| --- | --- | --- |
| Ohio | Member in Good Standing | 2016 |
Work Experience
Position
Duration
Attorney - Lavin Law Group, LLC

2017

– present
Education
| School | Major | Degree | Year Graduated |
| --- | --- | --- | --- |
| University of Toledo | Law | Juris Doctor | 2014 |
Send an Email to
If your situation is urgent, consider calling this attorney instead of sending an email:
Phone:
Publications and Articles
Published 2014
Publisher: U.Tol Law Review
This article article discusses location-aware technologies including cell phone tower triangulation, and global positioning system (GPS) technology, and privacy right in context with the United States v. Skinner the U.S. Court of Appeals for the Sixth Circuit court case. Topics discussed include Fourth Amendment of the U.S. Constitution, cell phone-based GPS tracking by the government, and attempts to find a solution for the disruptive element of technology within the courts.