36000900
https://lawyers.lawyerlegion.com/
Stephen Smiley Kent
775-688-3000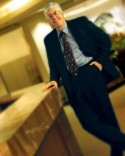 Kent Law Firm
201 West Liberty
Suite 320
Reno
, NV
89501
www.skentlaw.com
Phone: 775-688-3000
National Board of Trial Advocacy
Stephen Smiley Kent
Board Certified Specialist in Civil Trial Advocacy
National Board of Trial Advocacy
Stephen Smiley Kent
Board Certified Specialist in Civil Pretrial Practice
About Stephen Smiley Kent
Kent Law is a firm specializing in practical, efficient, goal oriented solutions to legal problems. Kent Law is owned and operated by Stephen S. Kent, a veteran Nevada trial lawyer with 38 years experience resolving lawsuits and when necessary successfully taking them to trial and handling real estate and other business transactions. Kent Law's strength is its intimate knowledge of Nevada's St... read more »
Biography
Kent Law is a firm specializing in practical, efficient, goal oriented solutions to legal problems. Kent Law is owned and operated by Stephen S. Kent, a veteran Nevada trial lawyer with 38 years experience resolving lawsuits and when necessary successfully taking them to trial and handling real estate and other business transactions. Kent Law's strength is its intimate knowledge of Nevada's State and Federal legal systems and how to use them win lawsuits to achieve a client's goals.
Kent Law's long time national and local clients and proven record of success are the best testament to their efficient practical, resolution of litigation and legal problems. These clients include the world's largest retailer, Wal-Mart, who Steve has represented for over 25 years, NIKE, Pella, as well as investment advisor Navellier & Associates Inc., AIG Aviation, USAI, QBE the Americas, Starr Insurance, insurer Western World Insurance Co., aviation insurer U.S. Specialty Insurance Co., aviation insurer AVEMCO, marine and aviation insurer Old United Casualty Co.
Stve graduated from the University of Nevada Reno and then attended University of the Pacific McGeorge School of Law, graduating in 1980 where he took constitutional law from Anthony Kennedy who later became U.S. Supreme Court Justice. Steve has spent most of his years in practice at 3 of ZNevada's largest law firms. In 2010 Steve started his own boutique business and defense trial practice, Kent Law, located in downtown Reno, two blocks from the State and Federal Courts.
In his 35 years of experience in 3 of Nevada's largest law firms and now his own firm, Steve has handled a very wide variety of matters in not only Reno and Las Vegas but also throughout rural Nevada. The types of matters over this 35 year period include business litigation, corporate and partnership disputes, real estate litigation, personal injury defense and, auto, truck, and bus injury claims, aviation crash and accident litigation, premises liability, insurance coverage opinions and litigation, corporate control/shareholder disputes, debt collection, construction defect claims, licensing, administrative and regulatory law disputes, realtor/broker liability, professional engineer liability, and real estate sales and financing transactions. Steve has also been appointed arbitrator in 49 cases in the Nevada Arbitration Program.
Steve has been asked to teach seminars to other lawyers and has authored several articles including Exclusionary Clauses in Aviation Insurance Policies, DRI Covered Events, April, 2004,  Insurance Coverage Law in Nevada, NBI 1998, Limiting Damages in Nevada, NBI 1990, Nevada Uninsured Motorist Law, State Bar of Nevada, 1995, The Legal Issues of Problem Collections in Nevada, NBI 1989 Washoe County Bar Assoc. 2013, and Nevada Discovery, Pretrial and Trial Procedures, PESI, 1988.
With 38 years as a trial lawyer Steve has tried many cases obtaining many defense verdicts for his defense clients as well as a million dollar verdict.  Steve was also selected as local counsel to defend the Reno Air Racing Association as a result of the crash of an aircraft the resulted in 10 spectators deaths.
Steve was recognized in 2015 through 2019 as one of The Best Lawyers In America. Steve is a twenty year Certified Civil Trial Advocate with the National Board of Trial Attorneys; Fellow, Litigation Counsel of America, Super Lawyer from 2007 through 2018,
Steve has been married to Mayla for 39 years and they have 3 adult children. Steve's hobbies are boating on Lake Tahoe, driving sports cars, and snow skiing.
Contact Information
Kent Law Firm
201 West Liberty
Suite 320
Reno
, NV
89501
www.skentlaw.com
Phone Numbers:
Practice Areas
Area of Practice
% Focus
Real Estate Law
P4
8.00%
Estate and Probate Law
P6
8.00%
Business Law
P7
8.00%
Alternative Dispute Resolution
P11
8.00%
Appellate Law
P19
8.00%
Landlord-Tenant Law
S4
8.00%
Contracts
S7
8.00%
Commercial Real Estate Law
S4
8.00%
Residential Real Estate Law
S4
8.00%
Civil Trial Law
P16
7.00%
Aviation Law
P23
7.00%
Administrative Law
P28
7.00%
Legal Malpractice
P32
7.00%
Credentials
Bar Licenses
| State | Status | Year Acquired |
| --- | --- | --- |
| Nevada | Member in Good Standing | 1980 |
Work Experience
Position
Duration
Kent Law PLLC

2010

– present
Woodburn and Wedge

1998

–

2009

Beckley Singleton

1987

–

1998

Vargas and Bartlett

1981

–

1986

Second Judicial District Court

1980

–

1981
Education
| School | Major | Degree | Year Graduated |
| --- | --- | --- | --- |
| McGeorge School of Law | | Juris Doctor | 1980 |
| Universoty of Nevada Reno | Political Science/Journalism | B.A. | 1975 |
| McGeorge | | | --- |
Specialty Certifications
| Certification | Specialty | Accredited Organization | Year |
| --- | --- | --- | --- |
| Board Certified Specialist | Civil Trial Advocacy | National Board of Trial Advocacy | --- |
| Board Certified Specialist* | Civil Pretrial Practice | National Board of Trial Advocacy | --- |
Awards and Recognitions
| Recognition | Granting Organization | Year |
| --- | --- | --- |
| Best Lawyers of America | Best Lawyers | 2015 |
| Best Lawyers of America | Best Lawyers | 2015 |
| Superlawyers | Superlawyers | 1997 |
Send an Email to
If your situation is urgent, consider calling this attorney instead of sending an email:
Phone:
Sending an email to this lawyer through an online form does not create an attorney-client relationship. Such a relationship is not established until an official agreement is reached with a lawyer regarding terms of representation. Please don't send a message containing any time-sensitive or confidential information regarding your case via this form.