48001544
https://lawyers.lawyerlegion.com/
Alexandra Tracy Ramirez
602-714-7172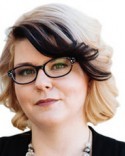 HopkinsWay PLLC
4600 E. Washington Street
Suite 300
Phoenix
, AZ
85034
www.hopkinsway.com
Phone: 602-714-7172
About Alexandra Tracy Ramirez
An ASSOCIATE ATTORNEY, Ms. Tracy-Ramirez focuses her practice on public university employment or education disputes and investigations, invasion of privacy litigation, and defamation litigation in Arizona. She represents plaintiffs, university staff or administration members, university professors, and university students whose privacy rights were violated or whose rights to continued university e... read more »
Biography
An ASSOCIATE ATTORNEY, Ms. Tracy-Ramirez focuses her practice on public university employment or education disputes and investigations, invasion of privacy litigation, and defamation litigation in Arizona. She represents plaintiffs, university staff or administration members, university professors, and university students whose privacy rights were violated or whose rights to continued university employment or education were infringed due to blackmail, discrimination, extortion, harassment, retaliation, or other unlawful or illegal acts. She also represents plaintiffs whose reputations and professional or educational opportunities have been harmed or diminished due to others' defamation, extortion, fraud, misrepresentations, or negligent investigations.
A former public university investigator in Arizona and Colorado, Ms. Tracy-Ramirez has experience working in Human Resources and Student Conduct or Student Affairs offices. She has worked as a compliance consultant, Title IX Investigator, and investigator of protected-class discrimination claims. She understands the unique dynamics at play in a college or university setting.
Contact Information
HopkinsWay PLLC
4600 E. Washington Street
Suite 300
Phoenix
, AZ
85034
www.hopkinsway.com
Phone Numbers:
Secondary Address:
177 N. Church Ave.
Suite 1100
Tucson
, AZ
85701
Practice Areas
Area of Practice
% Focus
Intellectual Property Law
P13
34.00%
Civil Trial Law
P16
33.00%
Education Law
P31
33.00%
Credentials
Bar Licenses
| State | Status | Year Acquired |
| --- | --- | --- |
| Arizona | Member in Good Standing | 2011 |
Education
| School | Major | Degree | Year Graduated |
| --- | --- | --- | --- |
| University of Arizona | | JD | --- |
Associations
Position
Organization
Duration
Title IX Investigator
Title IX Investigator Certification Association of Title IX Administrators (ATIXA),January 2013.

2013

–

2014
Speaking Engagements
| Presentation Title | Conference | Year |
| --- | --- | --- |
| "Achieving Compliance through Collaboration: Victim Support and Title IX Investigations." | Joint Conference of Association of Title IX Administrators School and College Organization of Prevention Educators | 2014 |
Send an Email to
If your situation is urgent, consider calling this attorney instead of sending an email:
Phone:
Blogs
Your Way to Justice Begins Here.™