21002265
http://lawyers.lawyerlegion.com/
Hassakis Law Firm
618-244-5335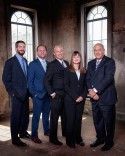 Hassakis Law Firm
https
Phone: 618-244-5335
About Hassakis Law Firm
The Personal Injury Lawyers of Hassakis Law provide premier legal counseling and Attorney services to the communities of Mt. Vernon IL, Effingham IL, and Marion IL. If you've been hurt in an accident and need an attorney to fight on your side, Hassakis Law is ready to fully and aggressively pursue your personal injury claim. We believe that the citizens of Illinois deserve exceptional legal care... read more »
Biography
The Personal Injury Lawyers of Hassakis Law provide premier legal counseling and Attorney services to the communities of Mt. Vernon IL, Effingham IL, and Marion IL. If you've been hurt in an accident and need an attorney to fight on your side, Hassakis Law is ready to fully and aggressively pursue your personal injury claim. We believe that the citizens of Illinois deserve exceptional legal care, and we strive to provide our clients with a unbeatable legal representation for their needs.
Hassakis & Hassakis, P.C. is a Southern Illinois law firm. It was founded here, our attorneys live here, and we serve the people that live here. Given the ever mobile world we live in, we receive contact from potential clients that live in central or northern Illinois. We are also consistently referred clients by other lawyers inside and outside of Illinois, which speaks to our commitment to provide quality representation to our everyday clients.
We focus on personal injury, workers' compensation, nursing home negligence, medical malpractice and wrongful death litigation. By limiting our practice to a very few practice areas, you can be assured that we know the law, the procedures and the best legal strategies to secure the best possible results for you. Do not hurt your case by going with an inexperienced lawyer or firm.
Area of Practice:
Contact Information
Hassakis Law Firm
Mt. Vernon
, IL
62864
https
Phone Numbers:
Practice Areas
Area of Practice
% Focus
Personal Injury
P3
10.00%
Employment Law
P8
9.00%
Health Law
P27
9.00%
Legal Malpractice
P32
9.00%
Medical Malpractice
S3
9.00%
Wrongful Death
S3
9.00%
Workplace Injuries
S3
9.00%
Nursing Home Abuse
S3
9.00%
Dog Bites
S3
9.00%
Products Liability
S3
9.00%
Workers Compensation
S8
9.00%
Credentials
Bar Licenses
| State | Status | Year Acquired |
| --- | --- | --- |
| Illinois | Member in Good Standing | 9999 |
Send an Email to
If your situation is urgent, consider calling this attorney instead of sending an email:
Phone:
Blogs

In the last several years, a number of changes have taken place in the law. These changes have produced a variety of reasons your driving privileges can be suspended or revoked, including tougher drinking and driving laws. You may be eligible for a temporary "hardship permit," which would allow you to drive under certain terms and conditions even while suspended.